Making our whites and rosés involves first of all gently pressing the grapes in an airbag press, but only gently so as to avoid releasing any unripe green or coarse flavours harboured in the skins. Similarly, this avoids the decrease in a wine's natural acidity as its pH goes up due to potassium also located in the skins. No sulphur is added to the press juice in order to facilitate the desired oxidation of the delicate primary aromas which give fragile wines that remain stamped by the grape variety rather than by the terroir. The must then undergoes a settling step to eliminate any heavier particles before it is run off at air temperature. Fermentation takes place with (for the moment) selected yeasts strains and a light dose of sulphur at 3 gm/hectolitre (100 litres). In fact, we have experienced numerous problems when relying on native yeast, including residual sugar and off flavours, so since 2016 we have gone back to using selected strains. Even so, we hope that we'll eventually obtain reliable quality native yeasts in our musts. The alcohol fermentations are run with controlled temperatures and, once finished, the settled lees are agitated to stabilise and "fatten up" the wines. Bottling is often carried out without need for fining or further stabilising, just a light filtration for clarity; only our early-bottled young wines are stabilised by fining (with bentonite clay).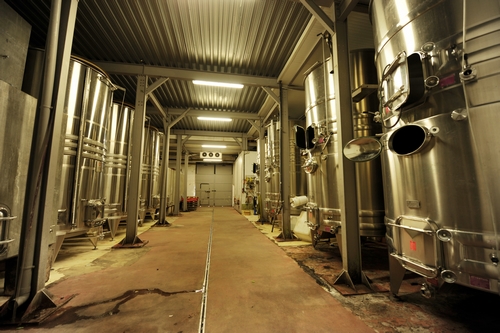 In vinifying our reds we look for a balance between extraction, finesse and a long finish. We don't destem every batch systematically. The grapes, after light additions of sulphur when vatted and at the start of fermentation (3 gm/100 litres), stay in tanks of either stainless steel or concrete for about twenty days. Extraction, with dousing of the floating cap, is unhurried and fermentation is stimulated by aerating.
We wait about a year before bottling in order to give the processes of stabilisation and natural clarifying time to work their way through.
Longer maturing takes place in 600-litre barrels, in big oak tuns or in concrete vats. Our casks are supplied by coopers whose respect for the wines ensures they use only fine-grained oak that has been open-air dried for two to three years. For us, barrel-ageing should aim to highlight a wine's character and not mask it.
Our Vins Doux Naturels are made by ending yeast fermentation by a traditional process called mutage: discovered in the 12th century by Arnaud de Villeneuve, a doctor at the royal court in Barcelona, it involves adding pure grape alcohol to a fermenting must. The must, once saturated with alcohol, prevents further yeast fermentation so that the finished wine contains residual sugar.
If oxidative maturing takes place subsequently, the result is a domination of the features due to vinification by the profile acquired in maturing. Here, having the big wooden tuns and venerable barrels to use truly forms a part of our family's heritage.